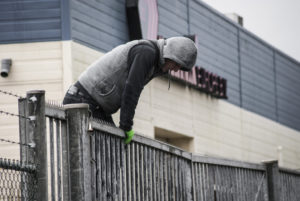 Six ways to protect outdoor assets and storage yards beyond just building a fence:
 Hire an onsite guard

.  The guard should have zero false alarms and can deter crime by just being there.  Cost and liability can be high if they are armed.

Security cameras.

  They can cover a wide area, no monthly cost.  You might just get left with a video of some unidentified guy with your stuff.

Motion or outdoor beam sensors

.  Probably the lowest cost, until you factor in false alarm fees, the crying wolf and resulting slowed response factor.

Verified Video

.  Having your alarm central station look in at video during and after the alarm, 80-90% less costly than live guards.
 

Periodic Patrols

.  Great to have the presence, however costly,  and can be very vulnerable when the guard is not on site.
 

GPS Tracking

. You can set up a geo-fence and can be alerted if the asset is moved.   Getting response in time to intervene can be difficult.
       

Cost comparisons for outdoor security solutions.
Strategy                                  Monthly Cost
Hire an onsite guard          $7,000+                Pros: Zero false alarm rate (human verified)        Cons: High monthly cost.
2. Security cameras                 $0 to $500            Pros: Low monthly than guard  Cons: You may only get video of a hooded stranger.  High deployment cost.
3. Motion or beam sensors   $35-$75                 Pros: Lowest monthly cost  Cons: High false alarm rate.  High deployment cost.
4. Verified Video System        $135-$265             Pros: Low false rate, human verified,  Low wireless deployment cost.  **Best choice**
5.  Periodic guard patrol         $2,500+                 Pros: Cheaper than full time guard   Cons: Long periods of no protection
6.  GPS Tracking                          $40 per asset         Pros: Great for small number of assets   Cons: Not good for small assets, costly for  multiple assets
The best strategy is to use two of the above methods, such as verified video and periodic patrols or GPS tracking.  Law enforcement responds faster to verified video  as the intruders are seen by live operators and the possibility of a capture is increased.   With verified video, if no human is seen at the property, there is no need to call the end user and wake them up.   On larger properties, where a guard can't be everywhere, a wireless verified video system can extend his presence over many acres.  The end user can relocate wireless outdoor security devices as the site changes.
Verified video can offer a much lower cost of deployment if wireless solutions are used.   In conjunction with cellular, there are 100% wireless solutions that require no wires and very low installation costs.  With GPS tracking it may be difficult for you  to co-ordinate with different jurisdictions if the asset is moving across one or more areas.
It's not unreasonable to ask the provider to offer a free trial of the technology before you sign an agreement.  Many providers will offer a low or no cost site survey to better understand your needs.