Fire Alarm Houston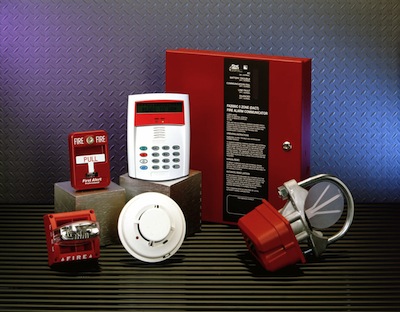 The steps leading up to a fire alarm installation:
In order to provide an accurate estimate, your site should be surveyed. If you have a floor plan, it will save you time if you provide a copy for the initial walkthrough. We do not charge for estimates, so give us a call at 281-591-1944 to arrange for a free estimate. The number and type of devices needed for your facility will be deterimined by several factors:
The code used by your municipality.
Use of the building. (Occupancy type)
Additional requirements by your local Fire Marshal.
Any requirements of your insurance company.
Site Survey.
Estimate to client.
After you have agreed to the estimate, there are still two steps to determine the final design of your system.
Plans submitted to the fire marshal for approval.
Acceptance of system by the fire marshal at the final inspection.
Click here for more info regarding the Harris County Fire Code Review Sheet.
Product Lines
We offer full service for fire alarm systems. Including installation, service, monitoring and inspections. As an Authorized Honeywell Security Dealer, we service Firelite, Silent Knight, Honeywell, Vista, Ademco, System Sensor, Altronix, Wheelock, GE, Gentex, and First Alert Professional products.
Fire Alarm Monitoring Permits
If your business is located inside the Houston City limts, you are required to have a fire alarm monitoring permit. This is in addtion to the fire alarm installation permit. The following link will take you to a copy of the permit form: http://www.houstontx.gov/fire/forms. Currently the initial fee is $50, and the annual renewal fees are $25. We provide blank form copies to our clients at the time of installation and can assist in filling them out properly. Residential fire alarms do not require this permit.
Telephone Requirements
Fire alarm systems are required to have two means of communications to the monitoring center. The primary means is normally a regular dial up (dedicated) phone line. The secondary line can be a second phone line, or a cellular backup. Most jurisdictions do not allow the use of voice over IP for fire alarm communications.
Our Experience
We have installed fire alarm systems in area public libraries, personal care homes, apartment complexes, motels, a local fire department, factories, city buildings, retail, banks, and office buildings, just to name a few! You can count on us to expidite your installation and get your building ready for occupancy approval!
Serving Houston since 1987.
We're Here to Help
There are many steps required to install a proper life safety fire alarm system. We can handle all the details for you. Perhaps you would like to install a less expensive property only fire protection system? Call us at 281-591-1944 and we can help you decide if your building qualifies for a property ony system.
Annual Inspections
The NFPA requires that monitored fire alarms are inspected at least annually. Non-monitored systems should be inspected every six months. We often run coupons that offer a free annual inspection to anyone switches over their monitoring services to OMNI. This offer is limited to non-monitored new clients only.
Sprinkler Monitoring and Elevator Recall
Many clients don't need an elaborate full blown fire alarm system. We can also provide monitoring for your sprinker system components. We do elevator recall service as well.