Alarm Monitoring Services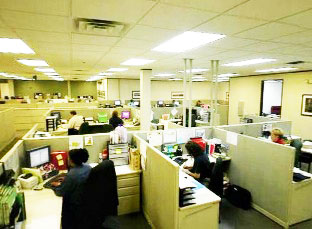 In addition to our basic monitoring, we also offer the enhanced services listed below.
Haven't been yet? Call us to arrange a monitoring center tour today!
Available Monitoring Services
To learn about Honeywell's Total Connect services, click here!

Benefits
Local monitoring, something that separates us from larger national companies.
Before OMNI, I worked for a nationwide alarm company. It always bothered me that the people monitoring our homes and offices were in another state, and I'd never even see them. How impersonal is that? At OMNI, our systems are monitored right here in Texas, by Texans. It just seems like the right thing to do. – Rick Overholt, Founder, OMNI Fire and Security
Call us to arrange a free tour of the monitoring center. You'll be impressed with the professional monitoring team and the cutting-edge technology.
Cellular Backup
A security system's most vital link, the telephone line, is also its most vulnerable. You can count on AlarmNet cellular backup service, which is the most effective alternative second line or backup to alarm transmission over phone lines. The wireless communications service works with existing security systems to ensure that alarm signals get through – no matter what.
Alarm and status packets are transmitted into the cellular network control channel where they are identified and routed to the AlarmNet Control Center. The AlarmNet Control Center logs status checks and routes alarms via RF to any AlarmNet equipped Central Station anywhere in the country. There is no cellular phone call required and no system-busy conditions to deal with. It is fully supervised by AlarmNet for only a low fixed monthly charge for normal traffic.
Remotely control alarm system by an easy-to-use website interface
Low-cost
Quick – easy installation
Highest level of reliability
No busy signals or cloning
[table "4" not found /]