Access Control Systems – Houston based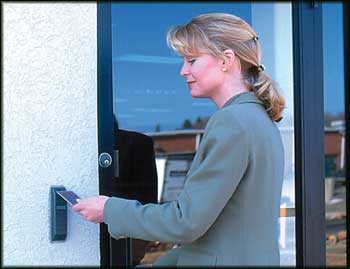 Access control systems, are also called keyless entry systems.  You control and track who is entering your property and when they're allowed access.  Have your pick of access cards, keypads or fingerprint readers and other biometrics.  Don't you prefer a local provider that's installed access control systems in Houston for over thirty years?
With our solutions you can choose from the three leading lines of access control systems.  The DMP (Digital Monitoring Products) line,  the Honeywell NetAxs system, and the S2 \LenelS2 offer everything you need.  Each of these systems offers you a unique set of benefits.
Fill out an information form on the right to talk to an estimator or arrange for a free site survey.
Want to know more about each of these lines?  You can scroll down below for a summary of each.  You'll also find a link to the manufacturers page.
User Control
You assign your employees a card or code.  You assign them to an access group which determines which doors they can go into, and what times \ days they are allowed access.  If a card is lost, you can simply delete it from the system all through a local PC or Smartphone app.
Whether you're looking to secure one door in your small business, or an entire building, we have a system to fit your needs.
Features
The user interface is securely accessed with a standard web browser under password control.
A proven Linux operating system is embedded in the Intel processor to ensure a stable platform.
You'll have integrated management of access control, video, alarms from anywhere.
You can receive video clips from designated access control and alarm monitoring points.
Choose to have your alerts delivered via email, and text messages, or no alerts.
Elevator control – you control which floors cardholders have access to.
This system can communicate across your local network or the web.
Our Manufacturing Partners
OMNI Fire and Security is your local Authorized Dealer for the following systems:
DMP – Digital Monitoring Products

After an extensive search in 2015 we chose DMP to be our leadoff commercial access control and security systems.  Why DMP is a good choice for you?   Because it's integrated platform lets you  easily manage your door control, alarm system codes, and cameras all from one place.  If you don't want to purchase, install or manage client software, you'll love this solution. It's all done from a web browser.  We recommend this platform from 1-32 doors.
Based in Springfield, Mo, you will appreciate the fact that this system is engineered, manufactured, supported and repaired all in the same building! For you this means fast support and the most frequent and extensive updates in the access \ alarm industry.
S2 – LenelS2
S2 provides an all-in-one browser-managed system that gives you complete control with unparalleled ease. This enterprise level system will grow as your company grows. Everything you need to install and manage the system is embedded within the S2 panel.  Every sub panel in your system contains a complete database backup.
This is NOT a cloud based solution. It is an edge appliance. The panel hosts a web interface securely inside your own network. You'll have no server software, no client software, no gateway and no connectivity issues burdening your staff or system. For your convenience, have browser-based access to your facilities from anywhere in the world. You'll have a security management application that's powerful and easy to use. Once you try it you'll accept nothing less.
Honeywell NetAxs
If you have eight or less doors, this may be the best choice. You'll find the browner based interface very user friendly. If you have one to three doors, and you plan to use this a standalone solution, this could be the perfect choice. It has all the features you'll need, including the ability to add and delete users from your smartphone from anywhere.
Permits for access control
Almost all municipalities require that you have permits and inspections on electric locks. We will obtain permits for you. We can help you design a system that doesn't require them.
The City of Houston requires permits on maglocks. At the time of this writing it is questionable whether or not you need a permit for an electronic door strike.
Harris County requires you to have permits on both strikes and maglocks. You will need engineered drawings, as well as signage. In the case of Mag locks, you have to have two means of egress such as an exit button and exit motion. Your system will need to interface with the fire alarm system.
Call us today, and we can help determine the requirements for your building. 281-591-1944