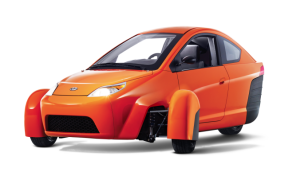 Clients who know me personally are aware that I tend to like to drive little "geeky" cars, such as the Corbin Sparrow, the Smart Car and even my Scion XB, which my employees referred to as "the box."
I'm always on the lookout for environmentally friendly vehicles, which is why I'm excited about the new 2016 Elio vehicle. It's a commuter vehicle that is designed to get up to 84 MPG on the highway and 49 MPG when driving in the city.
Once I heard about this innovative vehicle, I knew I had to get one for OMNI. I've already put deposit down for an Elio and I'm looking forward to taking it for a spin around the greater Houston Metro area.
The Elio is an American made vehicle that s doesn't skimp on safety features.  It includes airbags, anti-lock breaks and a reinforced roll-cage to strengthen the frame. Elio's mission is to honor the American dream by creating local jobs building vehicles that are fun to drive and are highly affordable while staying environmentally friendly.
I'm getting the Elio for a number of reasons. I do like how it will help me save on gas as I do my part to protect our environment. Lowering your carbon footprint is becoming increasingly important these days.
Another benefit of driving quirky vehicles is the attention I get when I drive them around with our OMNI Fire and Security logos. People always are interested and approach me to talk about the car, and it gives me a chance to talk about the work we do here at OMNI.
The Elio is cheaper than a billboard, will last longer and gives me an opportunity to get the word out about our security and fire services to business owners and residents in the community. Sometimes people just need a little nudge to start taking the security of their homes and businesses more seriously.
If driving an environmentally friendly vehicle will help spark discussions with potential customers and get them to address their vulnerability to crime and fire, I'm glad to do my part.
At OMNI Fire and Security, whether we are driving a conventional vehicle or a state-of-the art eco-friendly car, we strive to go the extra mile to provide security and fire alarm systems to homeowners and business owners in Houston. For more information or to set up an appointment, please contact OMNI Fire and Security at 281-591-1944 today.